Rotary Youth Exchange Program
NEW LOCATION! Prestige Vernon Lodge & Conference Centre 3914 32 St., Vernon BC, V1T 5P1 We meet every 1st, 2nd, and 3rd Thursday from: 12:00 - 1:15PM (4th Thursdays will be TEAM meetings. Where there is a 5th Thursday in the month their will be no team meeting.
Follow us on Social Media
Meet some of our recent "outbound" exchange students who leave Vernon to go to other countries:
Quote from Cyan: "I decided to apply for the exchange program because it has been my dream ever since my family started hosting Rotary exchange students when I was 10 years old. I love learning languages and seeing how different cultures work around the world. I wanted to not just learn about a place, but become a part of it and immerse myself in the culture. I also wanted to make friends from around the world and see how we all seem different from each other but knowing that, in reality, we are all the same. I wanted to do a different kind of learning before I return to Canada and go to university and I knew that this experience would change my life, even if it's just in little ways. I want to thank Rotary for giving me this amazing opportunity to live in Brazil for a year."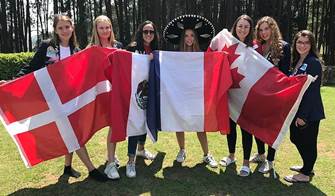 Rotary Youth Exchange Program
Each year, Rotary clubs worldwide send a Student between the ages of 15 & 18 abroad for 10 months in another country. This experience lets the student learn another language and experience a new culture. It builds independence, leadership and enables you to be a global citizen and a youth ambassador.
Through the Rotary Youth Exchange, Rotary International hopes to create a more interconnected and understanding world. One of Rotary's primary goals is promoting peace around the world, and through the Rotary Youth Exchange program, we aim to make the world a more peaceful place one exchange at a time.
If you, or someone you know, is interested in learning more about this program or would like to apply, please contact KalRotaryYouth@gmail.com.
Side Story  from Carmen: (Also have video of this story which may be more impactful)
Carmen Larsen is Kal Rotary's President this year (2019/2021) and grew up in Courtenay on Vancouver Island. Growing up her family hosted exchange students as her dad was very involved in Rotary. They hosted students from Turkey, Japan, Spain and New Zealand. Living with and getting to know them, and understanding how they were both the same and different from her was eye-opening and exciting and made her want to be an exchange student herself. In Grade 12 Carmen applied for the program and was selected. She went on to spend 1990/91 in Belgium. This was the most defining opportunity of her life, looking beyond herself to learn about the world outside her small town. She learned resilience, self-reliance and generosity of spirit. She also learned to speak French, eat great food like Nutella and discovered that family comes in many different forms but are all grounded in love. Rotary's Youth Exchange Program is very near and dear to Carmen's heart because of the impact it had on her personally and because of how it connects people all over the world. It has inspired her to choose Youth Programs as one of her focuses for her Rotary Presidency.
Meet some of our recent "inbound" exchange students who come to Vernon from other countries:
Although Miska had to leave us early this year & head back home to Slovakia, her time in Vernon & Canada is a time that she will never forget. She was warmly welcomed into the club and it didn't take her long to feel comfortable. She was invited to do so many fun things while she was here, from the haunted corn maze to baking to a trip to see Vancouver. She was able to join a dance studio in town and dance a few times a week, thanks to the support of Rotarians and her host families. She will be forever grateful for her experience & hopes to come back soon!
Meet some of our recent "outbound" exchange students who leave Vernon to go to other countries:
Quote from Cyan: "I decided to apply for the exchange program because it has been my dream ever since my family started hosting Rotary exchange students when I was 10 years old. I love learning languages and seeing how different cultures work around the world. I wanted to not just learn about a place, but become a part of it and immerse myself in the culture. I also wanted to make friends from around the world and see how we all seem different from each other but knowing that, in reality, we are all the same. I wanted to do a different kind of learning before I return to Canada and go to university and I knew that this experience would change my life, even if it's just in little ways. I want to thank Rotary for giving me this amazing opportunity to live in Brazil for a year."