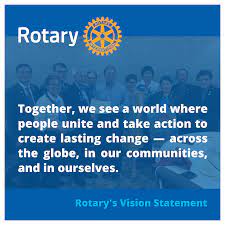 KALAMALKA ROTARY 2021 / 2022 PRESIDENT
Rivard to lead Rotary
Victoria Femia – Jun 24, 2021 / 12:00 pm | Story: 337872
Leadership is changing hands at Vernon's Kalamalka Rotary Club.
Jacqueline Rivard will step into the role as club president for 2021-2022 on July 1.
"I'm excited for Jacqueline to take the reins of the club. She has a lot of community minded ideas, and has lots of ideas for our club as we return to fellowship," says outgoing president Dustin Sadnyk.
"Her leadership will be highly impactful this year as we as a community work towards normalcy as we come out of the pandemic."
Rivard joined Rotary seven years ago, following the footsteps of her father, Larry.
"My dad … was a member of Kalamalka Rotary for years, and as a kid, being invited to attend lunches and participate in community events made me appreciate Vernon and the connections I was building growing up here," said Rivard.
Rivard's duties as president include appointing committee chairs and members, conducting club assemblies, creating a budget and managing club finances, developing a safe environment for youth participants, and working with the district governor and assistant governor.
"Being able to step into a leadership role and become more involved in all that our club does will not only reinforce my love for Rotary, but it will also grow my connections with our members and our community. Our members join Rotary for many different reasons, but what tends to keep us there is fellowship," says Rivard.
Her main focus as president will be youth services, fellowship and engagement.

"The last year has been tough for so many reasons, and for us as a group that is used to meeting weekly in person, reconnecting and engaging with each other and our community is so important. We can't wait to be able to get back to in-person meetings," says Rivard.
Jacqueline Rivard incoming president at Kalamalka Rotary Club – Vernon News – Castanet.net
LOCAL DONATIONS
Hi everyone,
I'm writing this from my 'COVID home/office' on a drizzly May Monday morning. While we are all keeping our distance at home, our grantees are putting Dream Auction $ to work. Here's an update on activities.
Love those numbers:
→ In February we confirmed $185,000 in grants to 15 applicants.
→ Thinking that the pandemic response may change grantees' plans, we checked to see if any funds could be freed up.
→ Not a chance – by now 7 projects are underway or completed with $77,000 disbursed, and 8 have Vernon Search & Rescue sporting their new confirmed that they are on track for completion in 2020.
Arcteryx winter personal protective gear.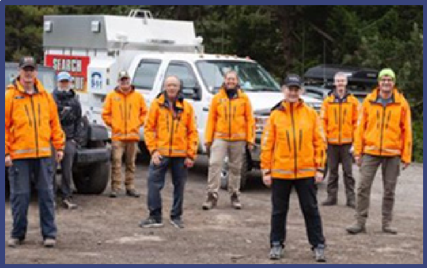 Here's what is already underway or completed:
○ Winter PPE gear is now in use by 80 members of Vernon Search & Rescue. They "love it compared to the old worn out clunky stuff".
○ Archway Society has completed their Family Therapy Room Upgrade. See their thank you, next page.
○ Recumbent Cross-Trainer exercise equipment has been purchased by the Vernon Senior Citizens Recreation Society / Halina Centre.
○ Brain Trust Canada has purchased and installed two new office computer stations.
○ A Wheelchair Accessible Van has been purchased for Venture Training.
○ Part of the mountain bike trail in Kalamalka Provincial Park named the "Middle of Somewhere" is now complete and open to the public. The N.O. Cycling Society said this in their press release this morning. " Oh my goodness do I ever DIG this amazing new trail… it is worth the climb to get the flow filled descent. NOCS has finished the lower section of our new trail in Kal Park and it is ready to ride! This lower section has all the classic flow features of berms, rollers, and so much flow… and did I mention that it is RAD!! And… the top bit will be finished this fall so we have more to look forward to… it is like New Trail Christmas is coming 2x this year! It is a multi-use trail so make sure to hoot and holler your way down."
Work underway in Kal Prov. Park on the 4 km blue-level flow trail.
LOCAL DONATIONS
○ The Community Recreational Initiatives Society has purchased their Cargo Van for transport of accessibility equipment on their outings.
As for 2020/21 'the Stadnyk Year', our Committee's funds arising from the Dream Auction are somewhat uncertain. Whatever the outcome we look forward to helping out our community's amazing charities.
All the best,
Mike Nolan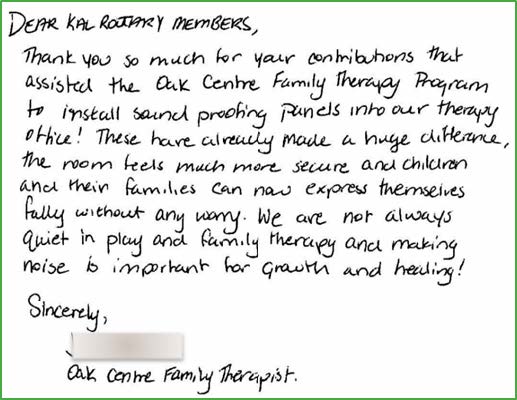 INTERNATIONAL DONATIONS
This year the international donations committee as been able to provide funding for several projects around the world.
Here's what's going on:
○ In Haiti we have funded 50 more biosand filters and purchased 4 motorcycles that will allow maintenance workers to go out to back country villages and service those filters.
○ We are helping to fund an eating hall/kitchen for a 200 student school in Costalegre, Mexico.
○ In Tanzania, we have provided funding to set up a self-sustaining, small business that will replace wood burning cook stoves with propane stoves. This will help with deforestation in the area and significantly reduce the labour involved in collecting difficult to source wood.
○ We are leveraging our $10,000USD, to get a district grant of another $10,000USD to furnish classrooms in a primary school in Amhara, Ethiopia (a big thank you to Roger Perry and Jerry Tellier on their work to allow the grant to proceed).
PROGRAMS
The program committee is treating the online meetings as an opportunity to bring unique and interesting programs to the club that wouldn't normally be possible.
The last couple meetings have been great examples. We have had a live presentation from Miska from overseas, and a live cooking class done by Laura Spencer direct from her kitchen.
Stay tuned for more new and interesting topics!
KIVA UPDATE
What is KIVA?
More than 1.7 billion people around the world are unbanked and can't access the financial services they need. Kiva is an international non-profit, founded in 2005 in San Francisco, with a mission to expand financial access to help underserved communities thrive.
Kiva does this by crowdfunding loans and unlocking capital for the underserved, improving the quality and cost of financial services, and addressing the underlying barriers to financial access around the world. Through Kiva's work, students can pay for tuition, women can start businesses, farmers are able to invest in equipment and families can afford needed emergency care.
By lending as little as $25 on Kiva, Kal Rotary is taking part in the solution and is making a real difference in someone's life. 100% of every dollar Kal Rotary lends on Kiva goes to funding micro loans.
What we've done:
In April, 2015 Kal Rotary made it's first $5000 USD donation to our Kiva Project with these funds coming from the International Service Committee as part of it's funding from the Dream Auction. Our first loan of $25.00 was made to Carmen, a corner grocery store owner in Columbia.
Carmen wanted her grocery to be the best grocery in the neighborhood and she applied for a loan so that she could stock it with the everyday products that her customers wanted. She had borrowed $525 dollars from Kiva in total. Fifteen months later she had fully paid her $25.00 back to Kal Rotary through Kiva. We then relent this to someone else needing funding.
Over the last 5 years we have added to our Kiva account and each month we have made additional micro loans to individuals around the world. As of May 22nd, 2020, our club has now provided Kiva with $20,356 USD to this micro lending site. We have now made 5065 micro loans of $25.00 each to individuals in 68 different countries around the world. We have actually turned that $20,356 into $128,450 USD by relending the money that is paid back to us each month in loan repayments.
Kal Rotary receives approximately $2300 in repayments each month that is then relent to new borrowers which in turn we can relend again.
To lean more about Kiva please go to www.kiva.org.
STARFISH PROGRAM
The 2019/2020 school year has been challenging to say the least for students, teachers, the school district, parents and of course the Starfish Backpack program. To bring you up to speed, let's rewind and look at what has happened. Summer 2019, we (Krista Blankley and David Spencer) took the roles of Co-chairs for the Starfish committee as the former Chair, Carmen Larsen moved on to be our Club President. Our first project was to look at what it would take to become our own Registered Society with Charitable Status.
Over the years, the Boys and Girls Club, our partner, has done a fantastic job helping us with administrative needs such as issuing tax receipts and financial reporting. However, given the rapid growth of the program which has gone from 20 packs to now 103 in just a few short years, our needs were growing past the capabilities of the B&G Club who understandably needed to put their program needs first. Hence our motivation to explore the option of going out on our own. The process is fairly slow, but we are making progress nonetheless. We formed the Kalamalka Starfish Society who's board is comprised of the now former Starfish committee members. And the Society will have the oversight and support of the Kal Rotary executive board – so Starfish is still very much a part of Kalamalka Rotary.
Currently, we are in the process of applying for charitable status with the CRA. The cost savings and efficiency of transitioning and running the program this way will translate into more funds available for BACKPACKS and smoother operations!!!!
The 2019 Dream Auction showcased the Starfish Pack Program and brought in more than $50,000.00 in funds raised in one evening. This proved to be a godsend for the program as our typical donation campaigning season (March/April) was torpedoed when we saw COVID-19 land on North American soil and the world was essentially put on "pause". We didn't get to do our regular PR campaign and there was no Starfish day to recognize our donors, partners and volunteers and give us a chance to shake a few more dollars out of club members at the annual luncheon.
Our food supplier, Save On Foods saw supply chain interruptions and couldn't guarantee our orders. On top of that, were also having to adapt to how to run a very hands on program with many volunteers in a time when physical distancing and public safety was paramount. For the month of April, we did one physical delivery of food to the schools, using minimal volunteers, personal protective gear and plastic bags rather than the usual backpacks. Given the supply chain issues at the time and after long discussions with our partners and the school district, it was decided that a Save-On gift card included with the delivery was the best option to guarantee food for the kids for the rest of the month.
We resumed weekly deliveries again in May as supply chains came back online and our orders can be filled again. The school district has been fantastic in helping us ensure that the kids enrolled in the program are still receiving the food. We anticipate this to be the case for the remainder of the school year and will continue deliveries until June 16th (End of regular school year). We hope to be back to "normal" operations, or something close to it come September, but given the continued uncertainty at this time, we will need to reassess later this summer. Either way, we remain committed to helping those in need.
Many, if not most of our regular volunteers have been understandably unable to assist us for various work, family, and health reasons due to the COVID-19 situation. However, we have a very solid core group comprised of Rotarians and Community Volunteers that are helping us get the job done safely each week and ensuring that our kids get the food they need to keep their tummy's happy. Thank you to ALL of our volunteers for the year, we literally could not do this without you!
If you have any questions or comments, are interested in seeing what the program is all about, or maybe think you'd like to help, please feel free to reach out to us anytime. All the best.
Krista & David
FOUNDATION
The Rotary Foundation supports the efforts of Rotary International to achieve world understanding and peace through international humanitarian, educational, and cultural exchange programs. It is supported solely by voluntary contributions from Rotarians and friends of the Foundation who share its vision of a better world.
The Foundation was created in 1917 by Rotary International's sixth president, Arch C. Klumph, as an endowment fund for Rotary "to do good in the world.". It has one of the largest and most prestigious international fellowship programs in the world.
Each year Kal Rotary set's a Foundation giving goal to show our support for The Rotary Foundation. Our goal this year was $14,000 USD to the Annual Fund and an additional $2,000 USD to support the eradication of polio for a total goal of $16,000. With the Canadian Dollar falling and COVID-19 hitting everyone hard it would be a stretch to hit this goal.
During the Rotary Year, we recognize our speakers with a certificate along with a contribution totalling $2000 to The Rotary Foundation for thanking them for speaking to us. This $2000 comes from our International Funds coming from the annual Rotary Dream Auction of which 25% of the funds go to International projects and 75% of the funds stay locally. We have a draw each year for the $2000 tax receipt and give these receipts to club members. When club members make additional contributions the are entered into the draw.
Even in the midst of COVID-19 our club members will have exceeded our Rotary Foundation goal. We have actually contributed $17,081 USD with more to come by June 30th. If fact, over the last 3.5 weeks, our club members have contributed $6,675 Canadian additional contributions with some of this going to Polio Plus, Disaster Relief and the Foundation's Annual Fund. Along with our club's annual contribution of $2000 this brings that total to $8,675 Canadian – In just 3.5 weeks!
Over the last 5 years, total contributions to The Rotary Foundation total $112,467 USD which totals $157,438 Canadian.
I am always amazed by our Kal Rotary Club members.
On behalf of Mark Maloney, Rotary International President, and the Trustees of The Rotary Foundation I thank you!
Greg MacKinnon,
Kal Rotary, Foundation Chair.
Learn more about the Rotary Foundation and how you can help make a difference!
The Rotary Foundation | Rotary International
MEMBERSHIP
The Membership Committee currently has 10 members and we are looking for more!
Committee members are normally active in the new member approval process and in membership activities such as Attendance Tracking, Guest Tracking, Mentorship for new members, Firesides and Inductions. With COVID preventing regular in-person meetings the Committee is focused the welfare of our members and on keeping everyone as engaged as possible.
This is being done through support of (distanced) social activities and reaching out through other means such as our phone tree. Over the short term, the Committee will be looking to minimize our dropout rate and to examine ways by which members can safely reconnect in-person.
SOCIAL COMMITTEE
Hello fellow Rotarians,
I hope everyone is staying healthy and sane during these uncertain times. Unfortunately, this pandemic has really cut into our in-person social time that we all enjoy so much. But don't fear, your social committee is here to help you remain connected! While some social events such as TEAM meetings and Guess Who's Coming to Dinner are being put on hold until further notice, your social committee is still working hard to adapt under the current circumstances and provide the membership with opportunities to remain social while keeping a safe distance. A highlight of what we are working on includes the following:
Socially Distant Camping
Chris Heidt is working out the details to organize a group camping trip to Mabel Lake Provincial Park. It appears that BC Parks is giving preferential treatment to BC residents booking sites this year and cancelling all out of province reservations so this should be a great opportunity for our club to get the group site. If you're interested in taking part in this opportunity to get in some quality time with your fellow Rotarians while maintaining social distancing, please contact Chris Heidt right away!
Wine Down Fridays
Faith Wood is organizing Friday "Wine Down" Zoom meetings where Rotarians can grab a drink in the comfort of their own home and join an informal zoom meeting. It's a great way to enjoy your favourite drink and the company of some pretty awesome fellow Rotarians while staying safe. Please watch out for Faith's emails with dates and links to the meetings.
Once it's safe to gather in larger groups, your social committee will resume the social activities that we all love so much such as Team Meetings, Guess Who's Coming to Dinner and Golf Days. Until then, I hope you take the opportunity to get together in Rotary organized events as it's so important to stay connected and involved in these uncertain times. Stay well.
Sincerely,
Courtney Satchell
Social Committee Chair